Check out the list
and spill THE TEA....
does it sound like YOU?
Spoiler Alert: We're pretty sure you will relate to one, if not all, the statements. Why? Because as WORKING actors ourselves, these were just some of the challenges we faced when we first started building our own careers.

Sure...making mistakes is part of learning and growing. BUT...making mistakes when the information is out there is bad business and will keep you from being #bookedandblessed.

We saw that a HOLISTIC approach to actor training was not available and we wanted to change that. That's why Put Me On Self-Tape and That One Audition came together and created:
THE NEW TRIPLE THREAT™ - a membership program that puts everything we wish we knew before we changed our DREAMS to our CAREERS all in ONE place. Starting as little as $67 a month!
Debating whether you can pay for rent or invest in ONE acting class this month?

Recently graduated from conservatory/grad school and have the skills to memorize 12 pages of Chekhov but don't know how to LIGHT a self-tape to enhance story?

Overwhelmed by the TECHNICAL demands of self-tapes?

In need of COMMUNITY support?

Know how to memorize lines but can't build a character?

At a loss about how to conduct yourself on set at every level of your career?

Have acting coaches scared you, belittled you and made you feel like this career isn't possible?

Tired of running around to SO MANY classes/teachers to get the TECH, BUSINESS and CRAFT knowledge you NEED to build and sustain a career?

Feel like you can't move to LA but want to be competitive in the LA Market and stay on top of casting trends?
THEY LIKE US...THEY REALLY LIKE US!
YOUR NEW3T COMMUNITY IS WAITING...
WHAT MAKES US DIFFERENT?
We are committed to making top notch training accessible and affordable to ALL actors at any level. You no longer have to move to New York or LA to get amazing training that will make you competitive in any market.

We are firm believers in building and learning from our community. We want to empower you on your path and support you in taking full reins over your creative process. This business does so much to make us feel that everything is out of our control. We want to give you all the tools you need to be a healthy and thriving artist who is consistently inspired on their actor journey.
ON THE GROUND EXPERIENCE: As actors who audition and coach, we understand and keep up with the ever changing landscape and trends of the TV/Film Industry

CREATIVITY, BUSINESS AND TECH: We focus on training that marries all of these aspects to keep up with the current demands on actors.

NO GURU MENTALITY: We strongly believe in empowering YOU to become the boss of your craft.

STEP-BY-STEP COURSES: Each course is designed to be concise, easy to follow.
Anna honed her skills in the East and Alyshia developed talents in the West.  We crossed paths as Anna's self-taping business was being raved about on That One Audition Podcast.  Alyshia had to experience the taping situation with Anna LaMadrid.  The yin and the yang met and collaborated.  That first tape was magic and a booking!  Their talent and skill collided and a shared mission united.  
We are here to elevate and participate in stories.  Our mission in teaching and convening community is elevation, collaboration and encouragement of true artistry.  We wanted to empower other actors with the skills and tricks that took us years of set training and conservatory to discover.  Where one rises, we all rise together.  Our collaboration has heightened our own careers as we coach each other through characters captured effortlessly on self-tape.  But what makes us really a delight is in the healthy, holistic, working actor approach to learning and teaching others to have the confidence to shine.
WHAT OUR MEMBERS ARE SAYING...
"Thank you sooo much in helping me clarify technical beats like props and action. NY is very anti-props!!!! But they way you broke it down, that it helps propel the next moment -and as a writer, action beats aren't in there for fun, they are moving the story- so it's super helpful to remember to incorporate that as much as possible. "
Sol Marina Crespo from NY / New Amsterdam (NBC)
"You guys did truly a wonderful job. Even an old dog like me who thinks he knows it all is learning a ton. It's really in the details with these things. Congrats to you both on the success."
Alvin Cowan from LA / This is Us, NCIS
"I cannot thank you guys enough for this class. It truly changed this season for me, and I would even say it's changed my career. THANK YOU!!!"
Dempsey Hankins from Chicago
"You two have been so incredibly insightful and very generous with your time. I can honestly say that this class has really made me excited to do self-tapes...I didn't necessarily feel that way before and sometimes, loathed anytime I got a self-tape request because I preferred the room. Now, I am really really looking forward to seeing what happens with my self tapes and career in the future because of the knowledge I've picked up here. The timing of this class couldn't have been more perfect. Thank you both a million times over. "
Charles Maceo from LA / Big Little Lies, S.W.A.T
A SMART ACTOR IS A WORKING ACTOR
GOT QUESTIONS?
We've Got Answers.
Need more answers?
Email: pmomembership@gmail.com
Will these classes/courses be live?

Yes and No. Monthly live classes are only available if you are in the Series Regular membership. All memberships have access to the pre-recorded online course library provided to educate and practice at your own pace. Four new courses will be added in 2021. These will be taught as live classes and then added to the library at a later date. Members will have access to all future courses for the duration of their membership. Each member will receive a discount code to enroll in future live classes open to members and non-members.

Is there direct access to Anna and Alyshia?

There are varying degrees of access to Anna and Alyshia. Guest Star and Series Regular members will be able to attend one hour virtual check-ins with Anna for a Tech Q&A and with Alyshia for a Character Development Q&A. This will be an open conversation for all Guest Star and Series Regular members to attend and ask questions. Series Regular memberships will also include a monthly PMO Pop-Up taught by Alyshia and/or Anna. Plus, discounts on coaching/consulting will be available for all members.

Is there a limit to how many members are allowed to be in each tier?

Yes, our Series Regular membership will be available for enrollment for a selected max of 50 actors. This level is for committed artists who are ready to take their careers to the next level. In this level, a live class will happen monthly with individual feedback on tech/process on your self-tapes. Plus, live panels with Alyshia, Anna and an industry professional.

Do I have to become a member to get access to your courses? What if I just want the lighting course?

No, you don't have to become a member to get access to our courses. You can definitely purchase them a la carte (click on the ALL COURSES link in the navigation bar above). When you purchase them a la carte, you own the courses forever. When you become a member, you only have access to the courses for the duration of your membership.

Is there a minimum commitment to stay in the membership?

Nope. You can cancel your membership at anytime. However, we HIGHLY recommend that you commit a minimum of ONE year for either the Co-star or Guest Star membership. The courses in our library build on each other and have concepts that take time to process and apply to your work before you notice any big shifts. However, because the Series Regular membership has more responsibility and access to practicing your tapes monthly with our guidance, we recommend at least a SIX month commitment for that membership level.

Do I get lifetime access to the courses?

Our memberships allow you to lease the material for the duration of the membership. If you would like lifetime access to the online courses you have the option to "buy" them at full price and then lifetime access is yours!

If I already purchased a course, can I get credit for the membership?

No, there are no refunds. If you have already purchased a course, it is yours! You will have it for life. If we do updates to the course that you have purchased, those updates will automatically update in your purchased course.

Will Alyshia or Anna get to see me "act" in the membership program?

Yes, depending on your membership level. Series Regular members will receive feedback on their self-tapes in at the monthly Pop-Up. Also, all members will be able to enroll in live courses that are announced with a 10-20% discount code depending on your membership tier. If you are not a member of The New Triple Threat®, you will have to the opportunity to enroll live classes at full price after members have had the opportunity to sign up.

Are there assigned sides or can we bring our own sides to the Pop-Ups?

We provide sides for all our classes. Invaluable learning happens when you see other actors and community members approach the same character and same set of sides. Anna and Alyshia have chosen scenes for the series regular level that will help elevate everyone in the group. Same sides help create community learning and also help reinforce the belief that this career is about "selection not rejection".
Anna LaMadrid
Owner & Master Coach at Put Me On Self-Tape
Anna studied with acclaimed Meisner teacher, Maggie Flanigan in NYC. She received her MFA from the University of Washington where she TA'd for undergrad acting students and discovered her love of coaching. TV credits include: Vida - Recurring Guest Star (Starz), Love, Victor (Hulu), Bless This Mess (ABC) and Grey's Anatomy (ABC). She was selected to participate in the Disney Discovers Showcase. She booked her first lead in an indie feature from a self-tape and believes strongly in the power of putting your best take forward. She founded Put Me On Self-Tape in 2016 and coaches working actors on their self-tape and in-person auditions - including Bridget Regan (Jane The Virgin), Travis Van Winkle (YOU on Netflix), Raul Castillo (ATypical), Meagan Good (Prodigal Son), Dina Shihabi (Altered Carbon) and more.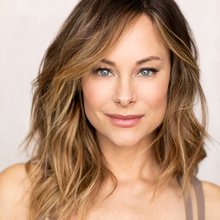 Alyshia Ochse
Actor, Author & Podcaster
Alyshia Ochse hosts an honest, humorous and inspirational podcast, THAT ONE AUDITION. These days, Alyshia is best known as "Lucy" opposite Academy Award Winner, Matthew McConaughey, from the critically-acclaimed and Golden Globe nominated TRUE DETECTIVE, as well as her previous roles in Satisfaction, How I Met Your Mother, Hart of Dixie, and General Hospital. Alyshia's other credits include roles in such movies as The Other Woman, Parker, and Marauders. Currently, Alyshia is recurring on the highly anticipated Quibi's must-watch series with a poignant message #FREERAYSHAWN ​with Laurence Fishburne.